There are countless stories and photographs of children stealing the spotlight at weddings. And it's okay, it's kind of expected. For every bride and groom eager to invite young children to their wedding, there's another that is extremely hesitant to bring theirs because they know the disruption they can cause.
When you see these hilarious photos of kids at weddings, you'll agree that they should always be included because they are just too darn cute to be left at home.
#1. Destination wedding: $10,000. Flying friends and family: $25,000. Beautiful beach resort with an all-you-can-eat buffet: $5,000.
Watching your kids slowly die of boredom while you tie the knot: PRICELESS!

#2. While these two were getting ready to say their vows, that little flower girl had totally different plans.
Her shenanigans stole the show right in the middle of her auntie's wedding. And they thought they'd only have to worry about their drunk uncle and their horrible sister-in-law!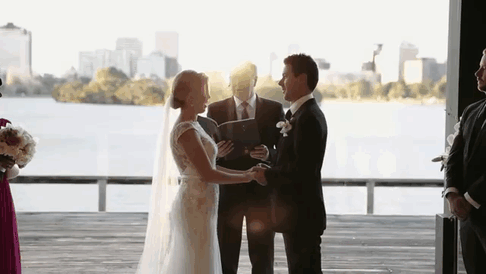 #3. This little guy must've been trying to object to the wedding, in his own messed up way.
But are we sure this isn't just a cat dressed up in little boy's clothing? Hmmm.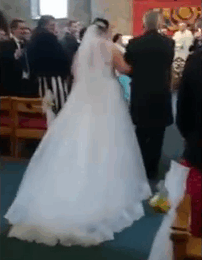 #4. This poor little girl has had enough of this lame wedding, so she's just decided to tune out.
Even that little kid on the left is dozing off into La La Land to try to put up with the major snoozefest that is that wedding.

#5. "Fine, I'll behave…I'll walk down the aisle like a big little boy… Oh who am I kidding, I WANT CAKE!"
This kid didn't last a single minute out there, but hey, let's be honest here. Most adults wish they could just bailed like he did!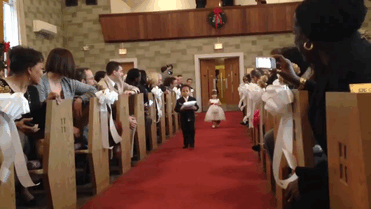 #6. This little girl photobombed the heck out of an otherwise spectacular photo.
But hey, when you gotta dig, you gotta dig, you feel me?

#7. This bridal party looked breathtakingly beautiful and so happy to be there…well, not all of them!
They probably had a trillion appointments with the photographer to discuss every detail, the lightning, the placement of the bridesmaids, and more…all for the kid to just go "ugh, I wanna GTFO"!

#8. That awkward moment when you realize you shouldn't have agreed to do this, but now there's no way out.
A grown up would've fake smiled through the whole thing, we've been trained to do that. But a kid? Oh, they're not about to mask their true emotions. No way.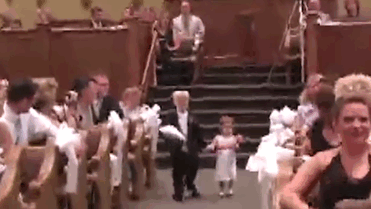 #9. We're not sure whether the groom was trying to remove her garter, or what.
But that kid was having none of it and he wanted to defend the poor helpless bride. Who says chivalry is dead?!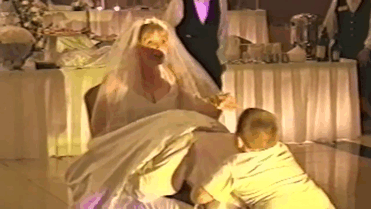 #10. So the wedding you spent months planning might be the happiest day in your life.
And sure, it's cute and the food is great and all, but it's no Disneyland, let's just be honest!

#11. While the wedding guests were enjoying dancing their butts off, this kid was doing his own thing.
The cameraman must've been hella confused. He probably didn't know whether to help the kid or keep recording it all!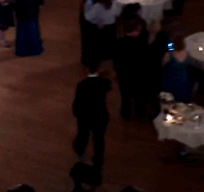 #12. This poor little guy was just beat after a wedding that lasted all day long.
Because watching other people say their "I do's" and declare their everlasting love for one another doesn't necessarily scream "fun," right?

#13. Here's proof that weddings are exhausting, even for those who aren't actually the ones getting married.
On the left, a happy innocent flower girl who was thrilled to be part of the wedding. On the right, the same little girl after a looooong reception that clearly was dreadful beyond belief.

#14. If this kid had anything to say, he kind of missed his chance!
The little kid on the right probably should've raised his hand when the minister asked everyone if they had an objection against these two getting married, or to forever hold their peace. Now it's too late!

#15. When the bride and groom are reading their vows, the last thing they want is to worry about a couple of kids running loose.
And while dad was quick to try to catch the kids before they do something crazy, we do have to wonder…wouldn't it be smart to put the glass down first?

#16. Is this just another kid who's had enough of a boring wedding party, or are they just planking on the floor?
Whatever it is, it beats throwing a tantrum at the altar, huh?

#17. "Here, this is what I think of your wedding, thanks for invite, though"
Little kids don't have the vocabulary to express how they're feeling, but they could always just throw the ring bearer pillow down the aisle, huh?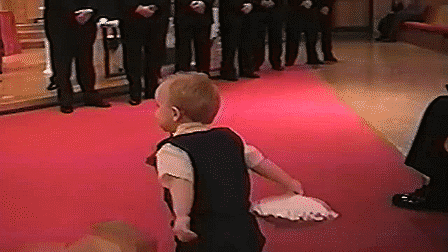 #18. This kid's not a big fan of weddings, love, and public displays of affection, evidently.
But perhaps, he's just not that into being the center of attention.

#19. Yeah, yeah, the kiss is nice, the bride looks stunning, and the groom is a living adonis.
But that baby seems to be less than thrilled to be wearing that headband. We can't blame her, though!

#20. After overdosing on cake, dancing it off for a few hours, and throwing a couple tantrums, it's safe to say this girl's done for the day.
But hey, it beats listening to them yap in your ear about how they'd rather be home, playing videogames, huh?

#21. This is one of the many reasons why some people go for child-free weddings.
But we've got to admit, this nonchalant kid playing with his toys definitely made the wedding pics 100 times better!

#22. This little girl is most likely going to grow up to become a major commitment phobe.
"Spending your life next to the most important person in your life, growing old together, surrounded by everlasting love? Ewww! Get me out of here!"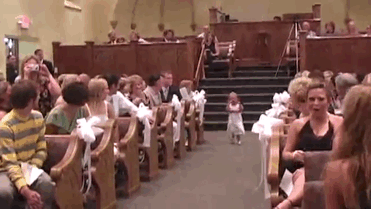 #23. Okay, so here are the bad news: this pissed off little guy threw the ring bearer pillow and ruined the moment.
Now the good news: look at him throw! Sign this kid up!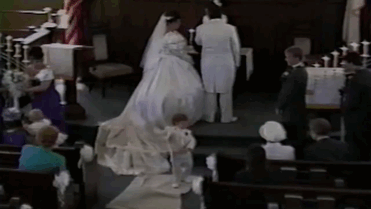 #24. Who says only the bride can be emotional on her wedding day?
The flower girl is either crying tears of joy or she's totally regretting having said yes to this gig. We feel ya, girl, we feel ya!

#25. That bride had probably planned her wedding for months and months, thinking of every potential thing that could go wrong.
But there's no way she could've predicted the little flower girl would decide to flash everyone her Mickey Mouse panties. But hey! Can you blame her? They're just so adorable!

#26. This kid is obviously waiting till the wedding is over so he can get revenge on mom and dad.
They promised he'd look like a million bucks on that tux, but no one warned him about how uncomfortable they are to wear! We bet he wishes he could just show up in Pj's.

#27. This little girl looks like she's beyond done with this wedding.
But to be fair, every other bridesmaid seems to be in the same boat, they just know how to hide it better!

#28. This little girl was supposed to play the part of the flower girl.
But after a few seconds, she wanted nothing to do with it. We kind of hope the man ended up replacing her. Now that would've been iconic!

#29. We seriously doubt this kid tripped and fell…this is probably nothing other than a major tantrum.
But that white walking cloth rag was a disaster waiting to happen anyway! Seriously, why would anyone want to walk over something that resembles a stretched out roll of toilet paper? Pass!

Bonus.
The Pure Joy

More like, "Oy!"
Nobody is having any of that joy stuff you're talking about.
The Birthday Girl

It's her party and she'll cry if she wants to.
And she totally wants to.
The Vase of Gum Balls

To be fair, who could be comfortable in a vase of gum balls?
Just be sure to avoid the "chocolate" ones.
The Rug Sleeper

Get used to it kid.
That's how you'll feel every day as an adult.
The Baby In a Box

Who thinks, "Let's put our baby in a box with packing peanuts and take a picture?"
Well, these people did, but it's a little bit creepy.
The Family Portrait

"STOP!"
"I didn't ask you for this!"
The Christmas Twins

Sure, give them breakable bulbs and strings of electrical lights.
What could possibly go wrong?
The Hands Under Chin

Or, you know, the fingers in the eyes.
What baby can really pose like that?
At least he tried.
The Pumpkin Patch Baby

I know!
Let's stick our baby in a giant piece of fruit!
The Hammock

He's so little he actually takes his naps hanging from the banana holding stand.
Do not try this at home.
The Nap

Awww, they look so peaceful.
At least one of them does.
The Reader

It's good to start a love of reading early and everything, but they might be a little young for comic books.
The Holiday Scene

As long as I'm here, I might as well take a nap.
After all, he sees you when you're sleeping.
The DIY Denim Swing

In theory, it's a great way to repurpose your jeans.
In reality, it looks like the world's worst wedgie.
The Watermelon Baby

I don't blame you for that look, kid.
A cold, wet rind doesn't exactly scream "comfort."
The Mother-Daughter Shoot

Actually, she kind of nailed this one.
Like mother, like daughter.
The Balloon Baby

"Why did you stick me in this cage with air-filled rubber spheres that can explode and pop at any second?"
The Cake Smash

Give a kid a cupcake, and you really can't expect much more.
You only turn one once!
The Bunny Rabbit

"What. The. Heck. Is. On. My. Face?"
"Maybe if I don't blink, it will just go away."
The Peacock

Just casually pose with your peacock tutu, maybe glance back a little bit at the camera…
Or just scream at the top of your lungs.
Either/or.
The Baby In a Basket

"Hey. Yeah, you. This is what you do with your picnic basket?"
The Lipstick Kisses

The poor kid looks like he rolled around in a patch of poison ivy.
I would probably be crying, too.
The Geek

Maybe he's just not into poetry and would like a different selection?
Or he just wants nothing to do with pretending to care about books.
Peek-a-Boo

"You think I'm too young to remember this, but make no mistake. I know…and I will never forget."